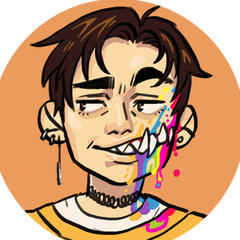 Ezombieart
Hello! I'm Al/Allen, aka EzombieArt. On this site you can find the links to my contact information, commissions info, portfolio, and all my active social media accounts!
Commissions Info
!!QUEUE IS FULL!!
!!COMMISSIONS ARE ON HOLD!!

You may still send in requests as normal. As I work on commissions new slots will open up. I will contact you when new slots become available if your request has been accepted!

You will recieve:
A 300dpi .PNG image for personal, royalty-free use.
For commercial or marketing work please check my About page instead.

Commission Prices:
Fullbody:
Full Color 200-250$ USD | Sketch 80-100$ USD

Half-body:
Full Color 100-150$ USD | Sketch 60-80$ USD

Bust:
Full Color 60-80$ USD | Sketch 30-40$ USD

↓ Please check the examples at the bottom of this page for reference. ↓

Payment:
Payment will be requested upfront via Paypal invoice.
Price is per-character, and may vary due to complexity. Character design fees are included. Backgrounds, large pets, or complex objects may result in additional fees.

How to Commission:
Send an e-mail to [email protected] or a DM to @EZombieArt on Twitter; include your name, what type of commission you want, visual references or a short description of your character(s), and your Paypal e-mail.

I will contact you back within 24h if your request is accepted. I can draw nudity (PG16), blood, and gore/horror, but I reserve the right to refuse a request for any reason. I am also not taking group commissions for more than three characters at this time.

!!IMPORTANT!!
Due to health issues, some commissions may take a long time to deliver and I am not able to give a precise estimate. Please keep this in mind before sending your request!
You will be put in a queue and I will contact you for payment only when I am ready to start working on your piece to make these delays as short as possible.

If I am not able to complete your commission for whatever reason, you will recieve a 100% refund of your payment, but I will not give refunds due to time delays.
About
My name is Ester/Allen Zejn and I am an illustrator, concept artist, and character designer based in Italy. I have worked as a freelance contractor for private commissioners, independent publishers, SteamForged Ltd, BOOM! Studios, and Rooster Teeth Productions, among others. I have also worked as a part-time art teacher in my hometown during 2018.

Portfolio & Full Resume

For business inquiries please send an e-mail to [email protected]

Here are some examples of my work: